Today focusses on the very beginnings of Glasgow, exploring the early foundations of the citys urban environment.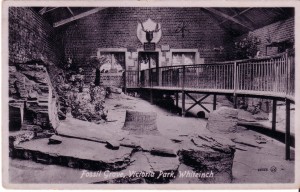 Nestled within Victoria Park, Fossil Grove exhibits 330 million year old fossilized tree stumps and gives an insight into what the world may haven been like in a time before dinosaurs. The fossils were discovered in the 19th Century during the construction of Victorian Park, once uncover they were not then moved to a museum but a building was constructed around them instead; so as to preserve the fossils as a public attraction.
A centre of Christian Worship since the time of St. Kentigern, founder of the city of Glasgow, the building is the only medieval cathedral on the Scottish mainland to have survived the Reformation not unroofed.  From the Lower Church containing the tomb of St. Mungo to John Clarkes Millennium Window, the Cathedral gives a true sense of Glasgows long history.
This A-listed church is built on the oldest worship site in Strathcylde, home to one of the most important collections of medieval stones in Britain; 'The Govan Stones'. The ancient graveyard is also of great antiquity and was the site of Christian burials from the late fifth or early sixth centuries.
To experience a more hands on interaction with early Glasgow, join Northlight Heritage at one of Glasgow's oldest surviving buildings for an archaeological dig. Visit the excavations, talk to the archaeologists and discover the past.
Explore the history and architecture of Medieval Glasgow. The tour will look at, and explore the fascinating history of sites such as; the puddle dubs, the old pedagogy and Eist Barras Yett.
The Invisible Channel, a walk along the banks of Molendinar Burn
The Molendinar made Glasgow, but Glasgow unmade the Molendinar' – along its banks St Mungo founded his church in the 6th Century and it was later used to power the growing town's mills. Buried and forgotten in the 1870s, rediscover the Molendinar's significance by joining the tour.