illustrious Glasgow
---


Weve teamed up with the super talented Rosemary Cunningham to bring you Illustrious Glasgow!
Every month from February to November well be sharing an illustration of one of Glasgows beautiful buildings and a few interesting titbits about architecture, design and the city. #illustriousglasgow
If you have any ideas for buildings that youd like to see illustrated get in touch! Email [email protected]
You can see more of Rosemarys work here www.illustrationetc.co.uk
June #5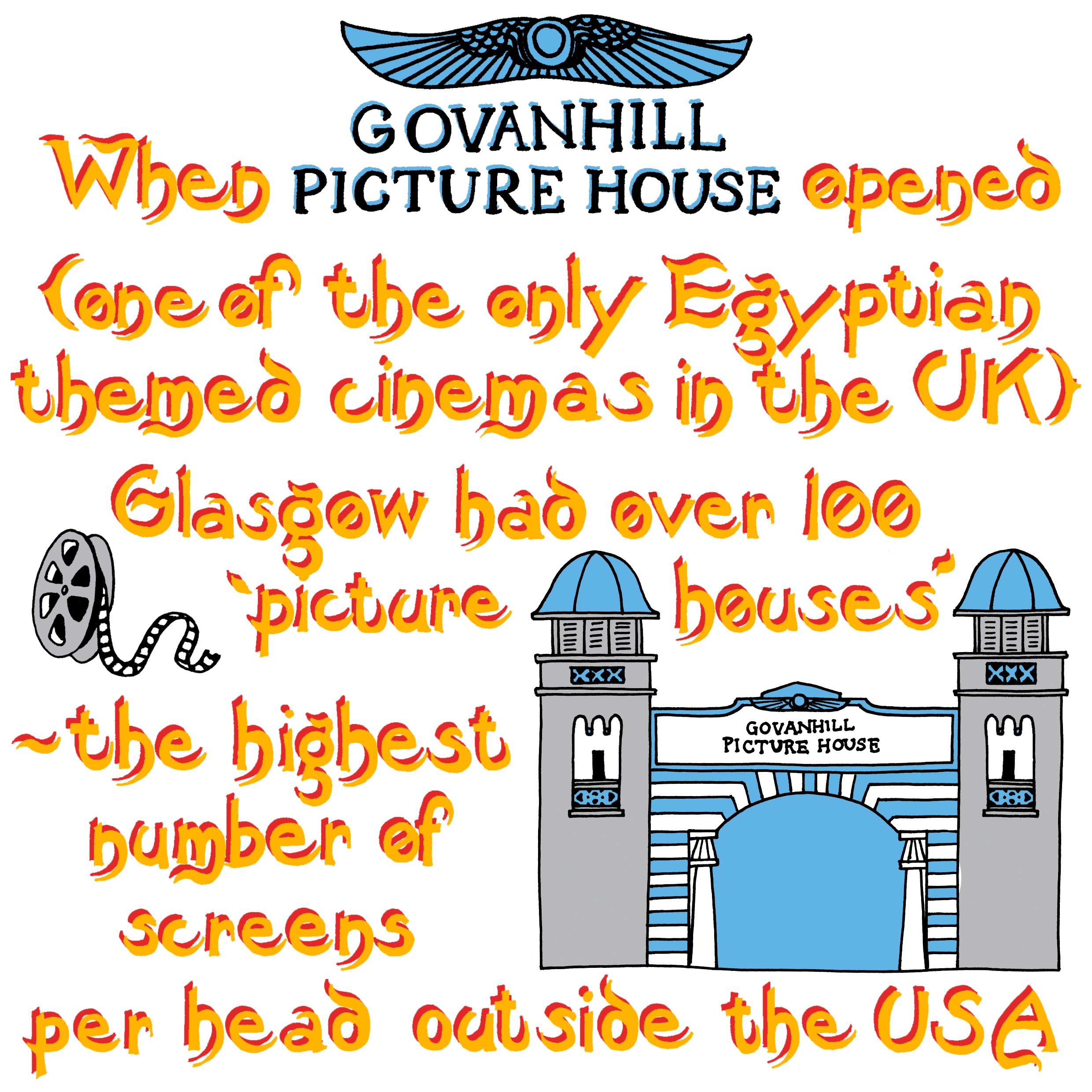 Govanhill Picture House: The B-listed Govanhill Picture House opened in 1926, built to the designs of Eric A Sutherland. It was one of only a handful of Egyptian-themed cinemas (Egyptian-styled facade, with columns and a moulded scarab above the entrance) in the UK and seated 1,200 before it closed in 1961. This unique Glasgow cinema building has since became a bingo hall and a warehouse. When it was first opened, Govanhill Picture House was one of dozens of cinemas in Glasgow, as going to the pictures was popular for people in neighbourhoods across the city. Although most of Glasgows former picture houses are no longer with us (do you remember Black Cat, Salon, White Elephant, Star Palace, La Scala?) the often beautiful and unique buildings still form a part of the citys urban landscape and cinemas such as the Cosmo (now Glasgow Film Theatre) continue to thrive in the city today.
You can learn more about Glasgows cinemas
Scottish Cinema and Theatre Database
The Early Cinema in Scotland Research Project
You can visit Govanhill Picture House yourself on Bankhall Street. Click here for map
May #4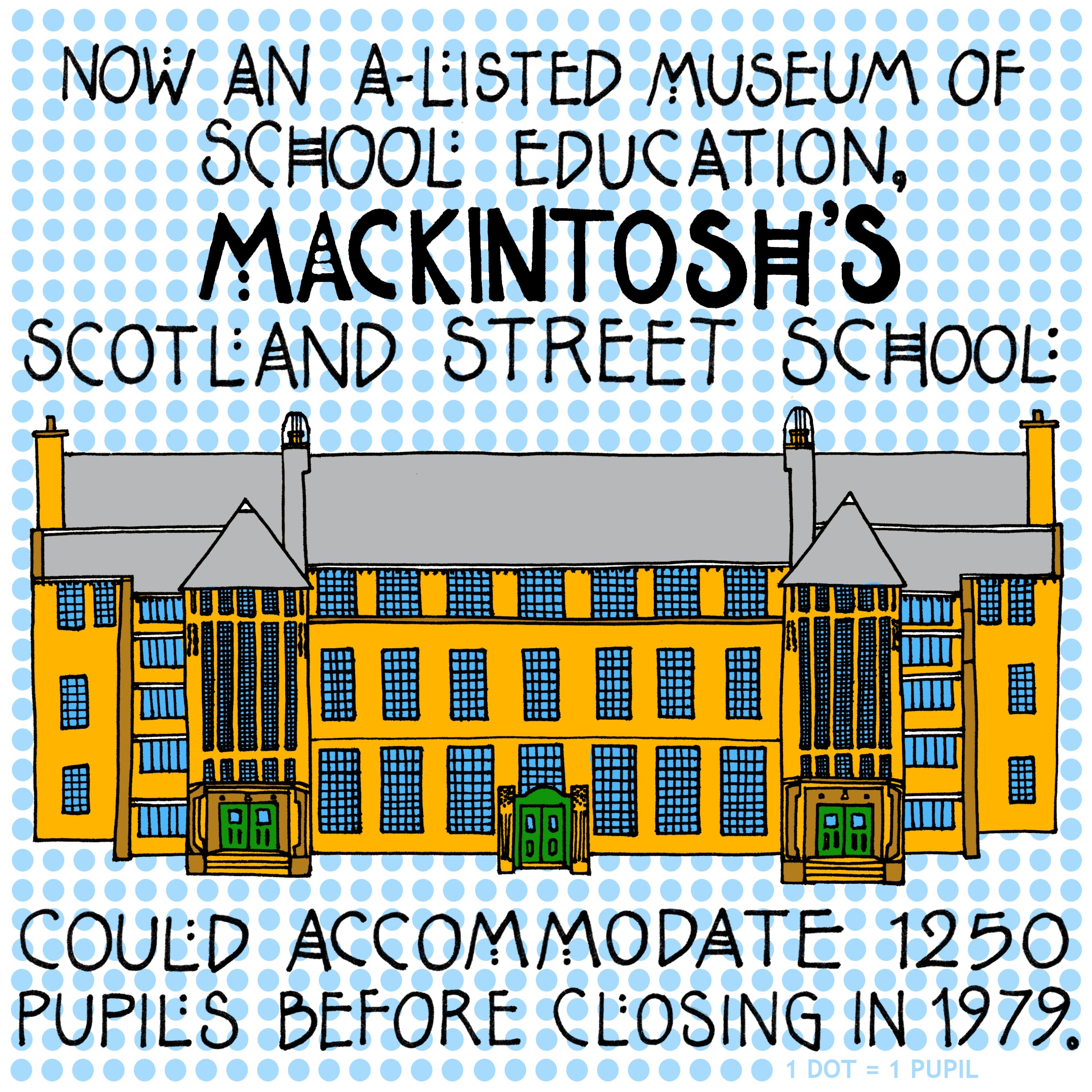 Scotland Street School: A Charles Rennie Mackintosh masterpiece, this unique school building was designed between 1903 and 1906. When it first opened on 15 August 1906, it served a growing population which centered around the then vast shipbuilding industry and the many engineering works, in and around the Clyde. At its peak, it could accommodate 1250 pupils (have a look at the bottom right corner of our illustration!) and for generations Glasgow children from the Kingston and Tradeston areas of the city called this beautiful building school.
The area started to change after the Second World War as the shipping industry began to decline and improvements were made to housing and transport across the city.  Residents were gradually relocated to the new towns being built outside Glasgow and the tenement flats they left behind were demolished. Gradually, the community moved away from Kingston and Scotland Street School found itself isolated in a wilderness of roads and industrial warehouses. Today it is a museum dedication to school education.
Juicy bits
apparently there is a ghost of a girl called Wilma in the Cookery Room.  It is always very chilly when you enter the classroom
Mackintosh changed the plans for the building to make it more ornate and the Glasgow School Board did not find out about this until a year later when many of his ideas were irreversible!
You can visit the wonderful Scotland Street School Museum yourself building on Scotland Street. Click here for map
April #3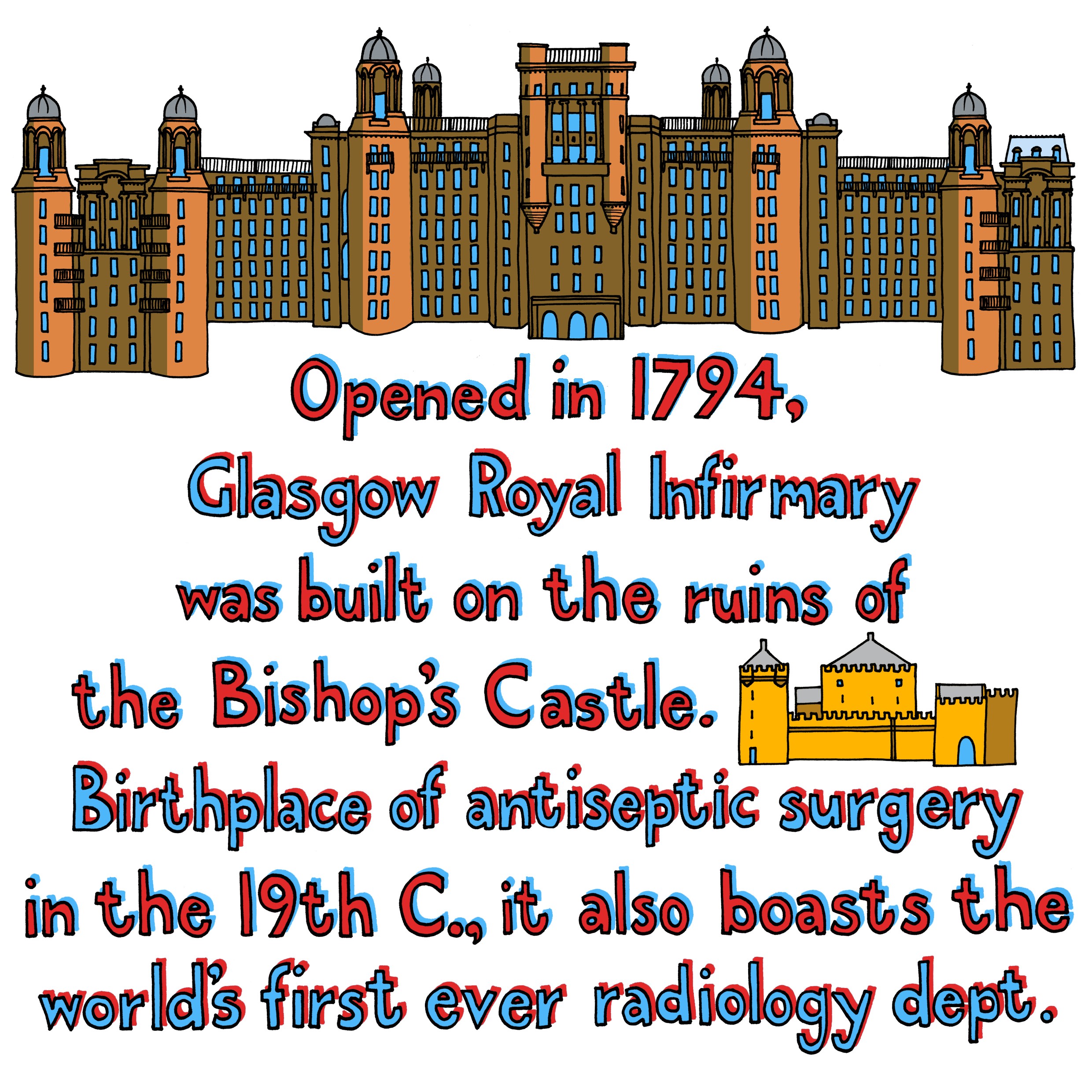 Glasgow Royal Infirmary: Designed by Robert and James Adam, the original Royal Infirmary building was opened in December 1794, built beside Glasgow Cathedral on land that held the ruins of the Bishops Castle. The hospital has gone through many building lives, with the original building being replaced in 1914 with a new design by James Miller.  In 1924, the surgical block in which Joseph Lister had worked was also torn down and replaced.
The building commands a striking position at the top of medieval High Street in one of the oldest parts of the city and has been home to many achievements, most notably the work of Joseph Lister (sterlisation) and the first uses of x-ray in a hospital by John Macintyre.
You can see this stunning building on Castle Street. Click here for map
March #2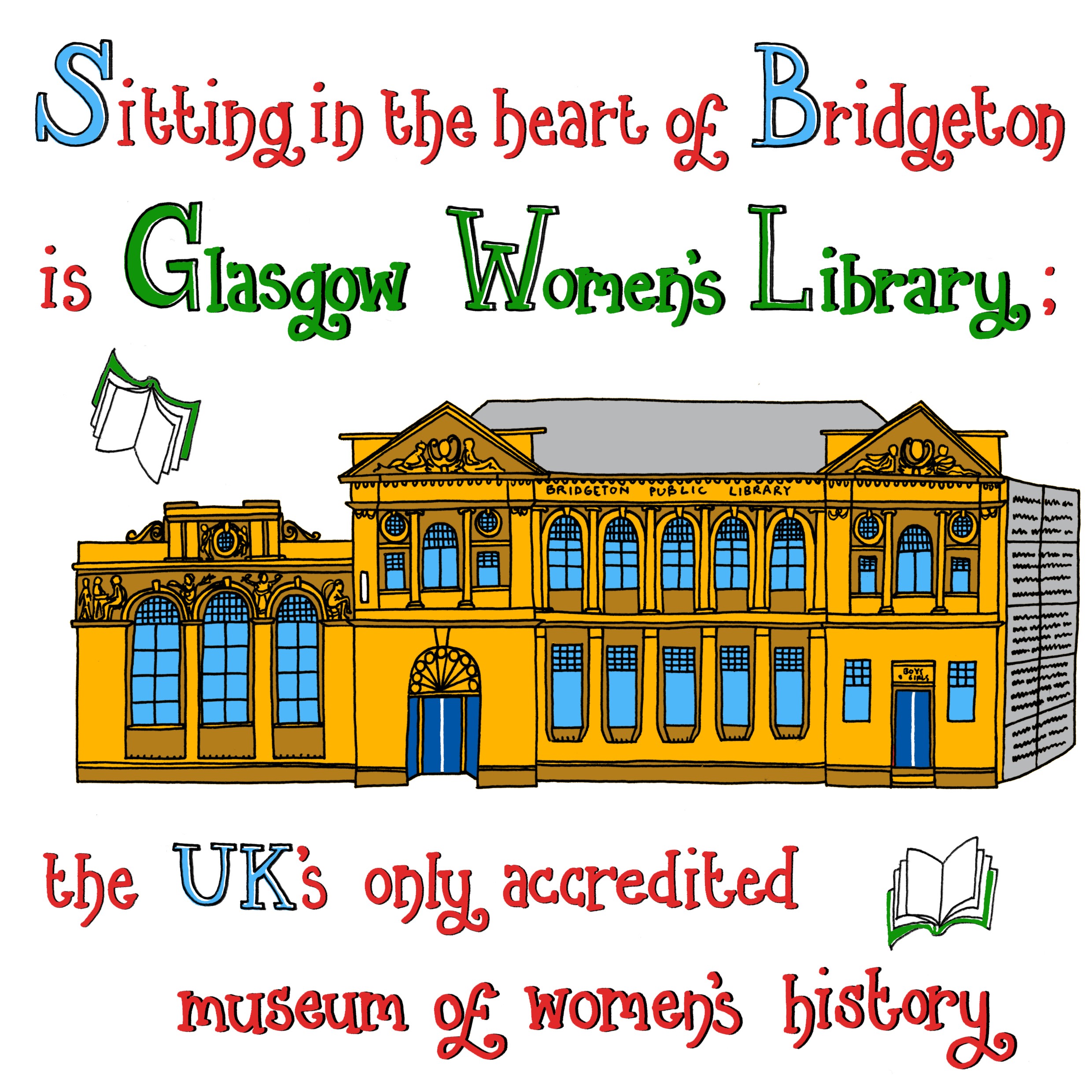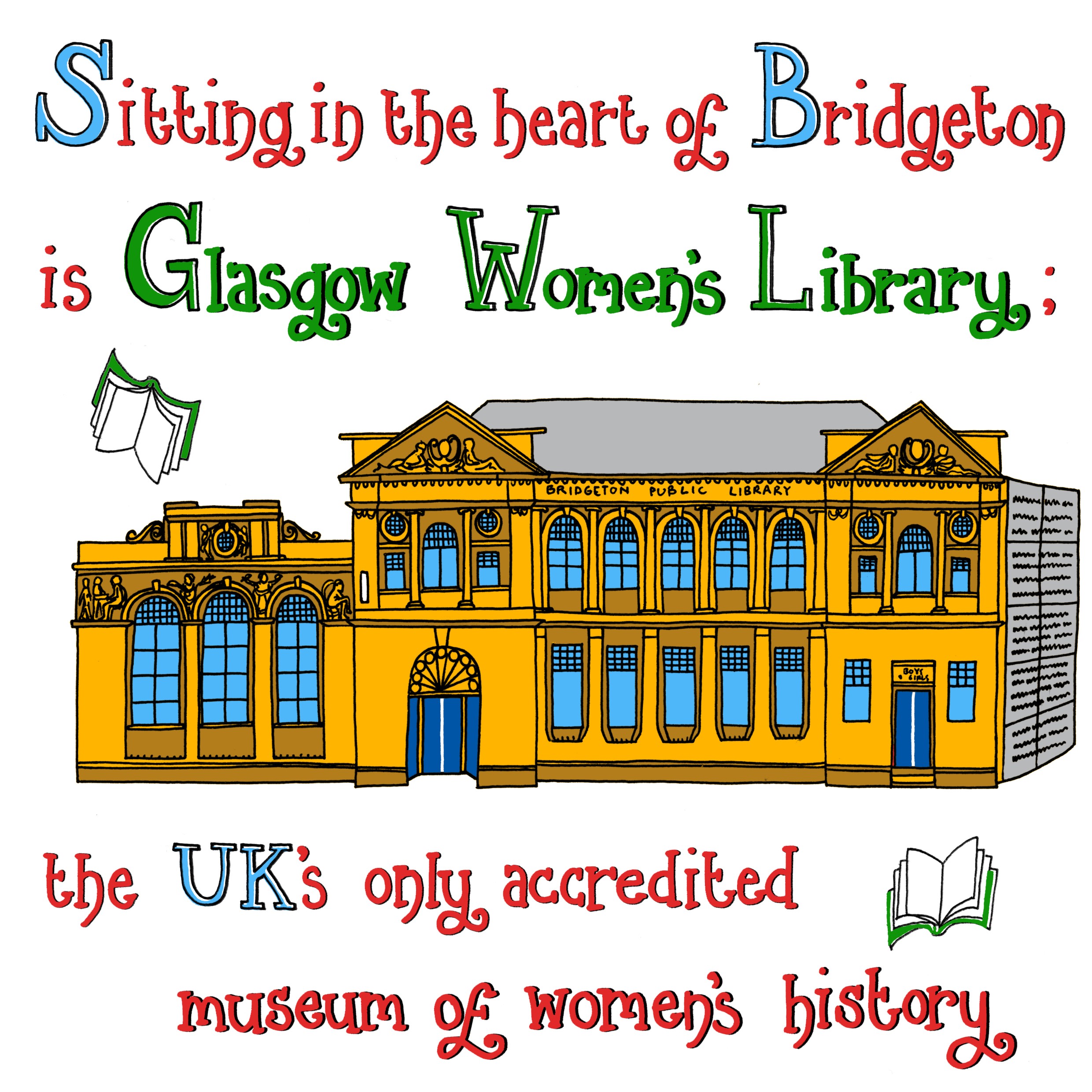 The Glasgow Womens Library: Designed in 1903 by Inverness-born architect, James Robert Rhind, the¬†Library is based in the former Bridgeton Public Library, which was one of a network of branch libraries set up by Glasgow Corporation in the early 20th century with funding from the Andrew Carnegie Foundation.¬†The Edwardian B listed building now houses the¬†UK'Äôs only Accredited Museum dedicated to women'Äôs history and achievements. As a 'ÄėRecognised Collection of National Significance'Äô, Glasgow Women'Äôs Library is visited by people from all over the world.
The building underwent a renovation in 2015 carried out by Collective Architecture which saw the creation of reading spaces and an open plan mezzanine area, with new lift access.The reading room sits above a new kitchen and events space, while a new archive is located over two levels to the rear of the gallery. This houses the library's permanent collections alongside special pieces which are required to be climatically controlled.
Find out more about the work of the Glasgow Womens Library and their stunning building www.womenslibrary.org.uk
You can see the Glasgow Womens Library yourself on Landressy Street. Click here for map.
February #1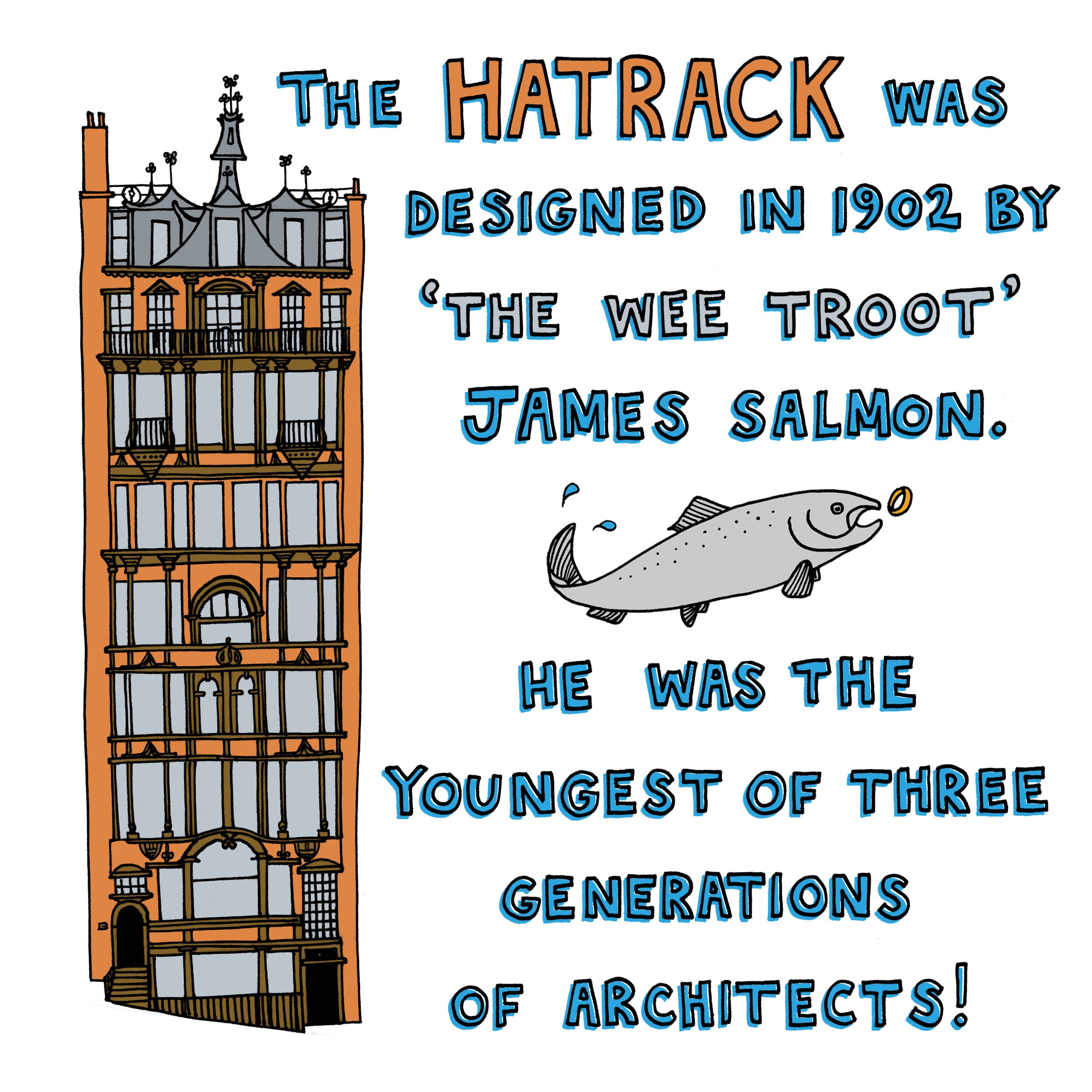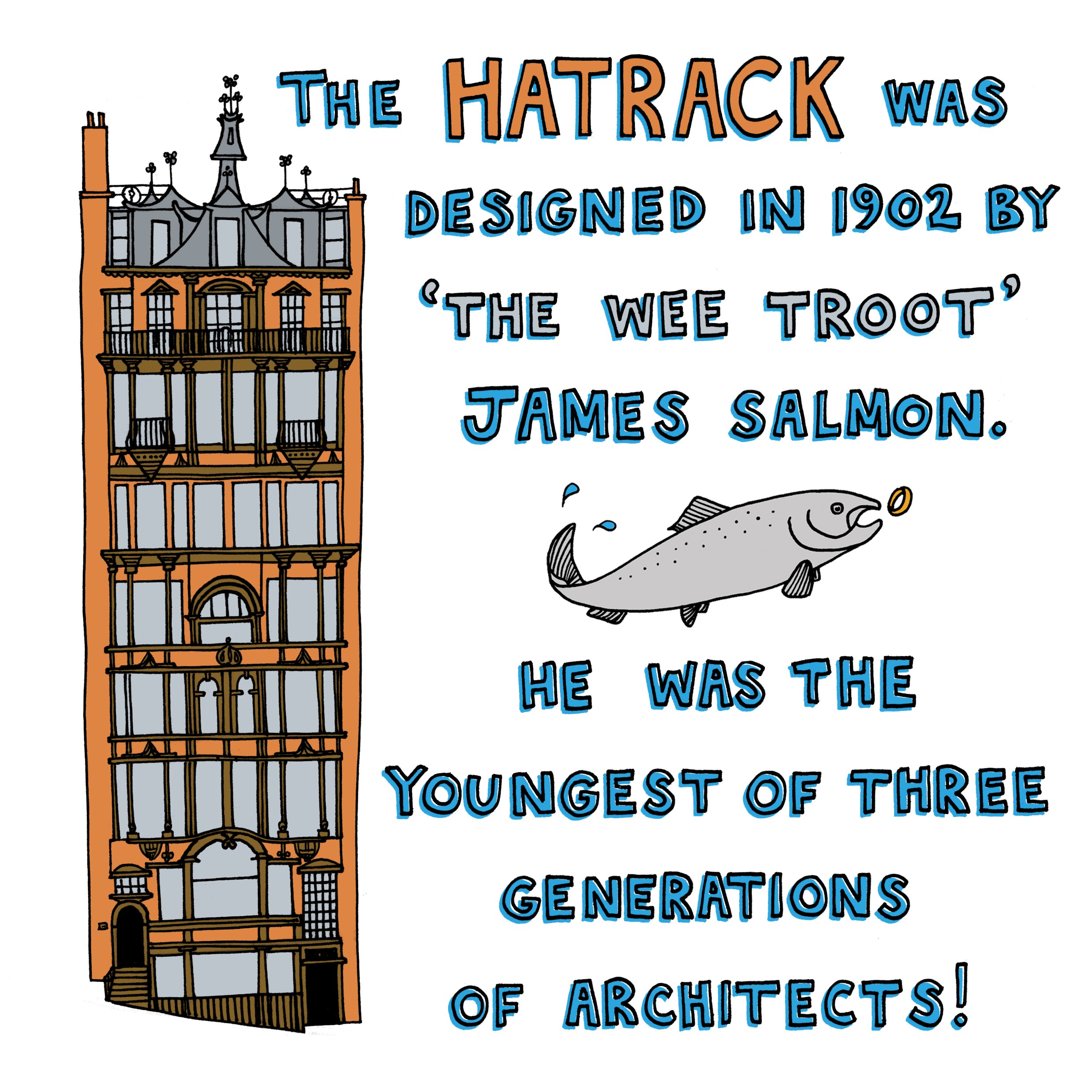 The Hatrack: Designed in 1902 by Architect the wee troot James Salmon, the lightness and modernity of the 1902 Art Nouveau building gave Salmon and other Glasgow architects a worldwide reputation. Although officially known as St. Vincent Chambers, the name Hatrack was given simply because, at the time, people thought the finial on top looked like a coat stand!
You can see the Hatrack yourself on St Vincent Street. Click here for map.