Lets Celebrate Glasgow!
Join us in September 2015 for a free festival that celebrates Glasgow's buildings, streets, parks, architecture, history and people with a programme full of walks, tours, talks, events and more than 100 buildings open for anyone to visit. For one week only, doors are opened and you are encouraged to explore Glasgow in a new way.
"I feel this is part of a secret club whispering and planning days out….. Just PURE DEAD brilliant";   2014 Visitor
2015
That's right – we are already thinking ahead for 2015! Dates for your diary: 14th – 20th September 2015
Want to be involved? Click here for more details and attend our creative planning event on Wednesday 21st January 2015.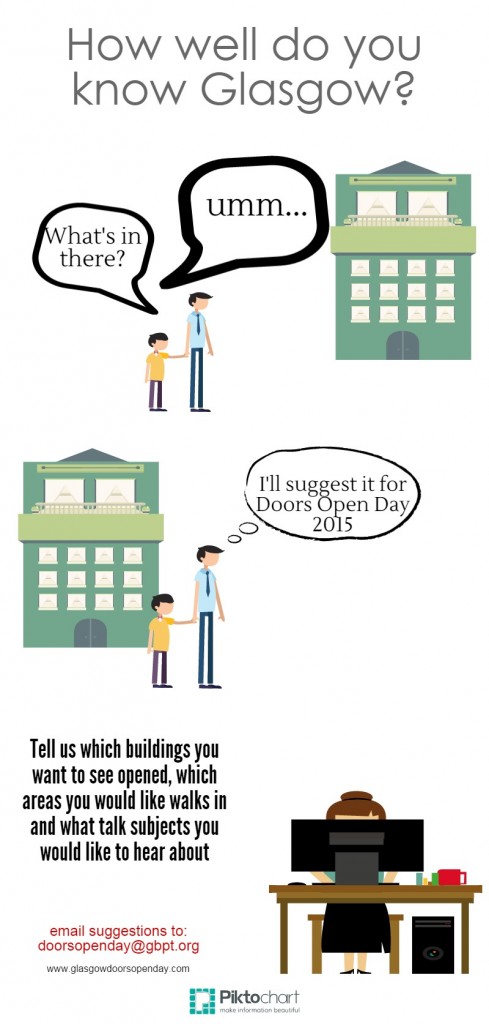 Part of Doors Open Days™
If one week just isn't enough why not visit Doors Open Days™ across Scotland. Doors Open Days™ is coordinated nationally by the Scottish Civic Trust. It runs throughout Scotland every September as part of European Heritage Days.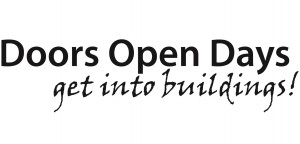 Glasgow Building Preservation Trust
Glasgow Doors Open Day is coordinated by Glasgow Building Preservation Trust and funded by Glasgow City Council along with other sponsors. If you would like to help enable Doors Open Day to take place why not donate or become a member.
Quicklinks:
Latest Tweets & Announcements:

Glasgow Doors Open Day will be taking place between 14th – 20th September 2015. BUT Planning begins NOW!

Doors Open Day is an opportunity for you to explore Glasgow. We want to know what interests you. Which buildings would you like to go into, are there any areas of the city you would like to discover the history of and are there any talk subjects that you would like explored.
There have been a few changes to the programme and also a few updates including FREE bus to Provan Hall, Programme alterations and procession details in the Glasgow Area