Lets Celebrate Glasgow!
Join us every September for a free festival that celebrates Glasgow's buildings, streets, parks, architecture, history and people with a programme full of walks, tours, talks, events and more than 100 buildings open for anyone to visit. For one week only, doors are opened and you are encouraged to explore Glasgow in a new way.
And for this year only – you can join us in July too!
Glasgow's Wee Doors Open Day – 23rd July 2014
Glasgow's Wee Doors Open Day will be taking place on Wednesday 23rd July 2014. You will be able to experience a little version of our usual September event.
We have now announced our programme, take a look and let us know where you plan on exploring on facebook and twitter #WeeDOD
Come back for our big event! 20th & 21st September 2014
Want to be kept in the loop for our annual September festival? Join our e-bulletin at the bottom right of this page. Why not put this years dates in your diary now: 20th & 21st September 2014.
Part of Doors Open Days™
If one week just isn't enough why not visit Doors Open Days™ across Scotland. Doors Open Days™ is coordinated nationally by the Scottish Civic Trust. It runs throughout Scotland every September as part of European Heritage Days.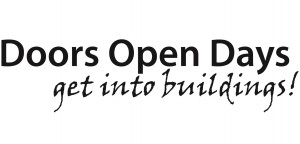 Glasgow Building Preservation Trust
Glasgow Doors Open Day is coordinated by Glasgow Building Preservation Trust and funded by Glasgow City Council along with other sponsors. If you would like to help enable Doors Open Day to take place why not donate or become a member.
Quicklinks:
Latest Tweets & Announcements:
Its not only the start of the Games today but also Glasgow's Wee Doors Open Day!

A FREE audio tour focusing on 8 of Glasgow's Landmark buildings was launched at the opening of Glasgow's Wee Doors Open Day on Tuesday. The brand new audio tour was created to compliment the Wee Doors Open Day that is taking place on Wednesday 23rd July 2014 ...
On Wednesday 23rd July, 18 landmark buildings across the city will open their doors and showcase their hidden heritage. Get the full programme here...