Glasgow Landmarks Audio Tour
---
Glasgow is full of fascinating buildings, so weve created a virtual tour to help you continue a journey of architectural discovery as you walk round the city.
The free audio tour will give you an insight into eight historic and very different buildings: from Glasgow School of Art to Clydeport, from Glasgow Cathedral to the Glasgow Necropolis. At each stopping point experts describe the buildings, explain the architectural heritage and tell stories about the people who designed, built, lived or worked in them. You dont have to follow a route, just pick out points on the map, and when you reach your destination press play.
You can get the mp3 version from soundcloud
And download the map and information leaflet as a PDF
If you have an iphone or Android device download the tour through Guidigo app (available on the App Store or Google Play). Download the Guidigo app for free, register an account, search for Glasgow or Walking Heads and download the Glasgow's Landmarks tour.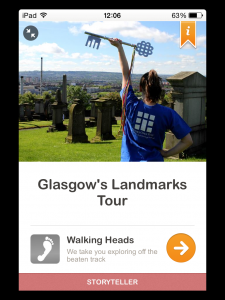 Or why not listen to a full length version of Gordon Urquhart, Architectural Historian and Conservator at Glasgow City Heritage Trust, giving an insight into Glasgow City Chambers
This tour was created in partnership with Walking Heads and was funded by Glasgow City Heritage Trust, Historic Glasgow Glasgow City Council and received Celebrate funding.